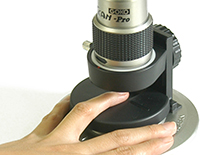 (1) A "Desk nailfold capillaroscope" that enables "non-invasive observation"
The GOKO Bscan-Pro makes the observation of capillaries much easier and clearer.
Thus far, it has been difficult to observe nail fold capillaries because of the need for ultra-high magnifications. At these magnifications, quality is easily affected by even the slightest finger movements or unevenness of finger surface. However, the GOKO Bscan-Pro facilitates "motionless observation" with its novel structure that keeps the camera and fingers stable.
It allows non-invasive observation of capillaries without blood sampling; this relaxes the patient, and thus, leads to precise results.