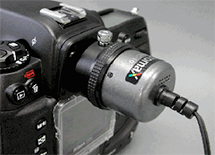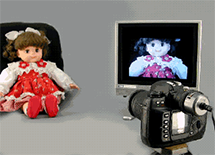 MVC-10W easily upgrades your SLR camera into one that features Live View and never causes Live View noise, regardless of whether your SLR is digital or film.
---
Captures smooth live video without time lags
An NTSC full-motion real-time video system captures extremely smooth real-time images without time lags on your TV monitor, optional 5.6-inch TFT LCD Color Monitor, or any monitor that has a pin-jack video input. The system is suitable for monitoring moving objects.
Optional NTSC-USB 2.0 Converter enables images as real-time output on your computer's display. It provides a clear and precise image that is uncompressed and in an accurate 4:3 format (images are VGA, 640 × 480, after being converted from the NTSC signal). Images can be saved as still images in BMP or JPG format with the included image software.
Stress-free waiting for a good photo opportunity
MVC-10 enables stress-free shooting even in photography that requires long waiting periods for the best opportunity, such as bird photography.
You can even check images from an outdoor SLR on an indoor monitor.
---
Easy shooting at ultra-high or low angles
MVC-10W makes it easier to shoot ultra-low angles, such as ground level, or ultra-high angles, such as unipod-mounted shots.
MVC-10 can be used with commercial external batteries and mobile batteries.
---
Easy to share the image before shooting
MVC-10W makes it easier to confirm the photograph composition with multiple people before shooting.
MVC-10W is effectively used in stop motion photography and still life photography. It has a good reputation for enabling smooth and efficient lighting setup and object positioning.
---
Free from Live View noise and camera overheating
MVC-10W has also proven beneficial to people having troubles caused by Live View, including Live View noise or camera overheating, causing temporary camera shutdown during long shooting periods.
---
Favorably used by professionals such as stop motion photographers
MVC-10 is favorably used by professionals in stop motion photography. It is used to shoot the popular Japanese puppetoon character "Komaneko" ("Koma" means "to shoot a movie frame by frame" and "neko" means "cat"). MVC-10 is mentioned on their website in an article referring to the DVD version of the movie "Komaneko - The Curious Cat," which was released in Japan, Taiwan, and France.
Komaneko official website

MVC-10 is highlighted in the feature article "Self-made Puppetoon" in the magazine "Eizou plus volume 01," published by Graphic-sha Publishing Co., Ltd.
Graphc-sha Publishing Co., Ltd official website
---
Includes a long cable: 5m!
MVC-10W includes a 5m cable which is long enough to enjoy shooting at ultra-high or low angles as well.
---
Attaches to Nikon and Canon SLRs
Canon
Nikon
PENTAX
Connector C1
Connector C2
(Currently sold out)
Connector N1
Connector N2
Connector N3
Connector P1
(Currently sold out)
1 series
(1V, 1N etc.)
1DsⅡ
1Ds
5D
3
5
7
7s
55
1Ds MkⅢ
FM10
F80D
U
Us
U2
F
F2
F3
FM3A
F3H
PF3/T
F4
F5
F6
F100
istD
MZ series
K10D
1D
1DⅡ
1DⅡN
1D MkⅢ
D610
D600
D200
D100
D80
D800
D2 series
istDs
Ds2
DL
DL2
70D
60D
30D
20D
20Da
FUJI S5pro
FUJI S3pro
D1 series
K100D
*The above are just a few examples and do not indicate all kinds of compotible bodies.
Contact us for more information.
*When using the SLR that features "Display-off sensor," please change the setting to prevent the LCD monitor from turning off automatically.

Some connectors are sold out, but we can discuss special orders according to customers' requests.
Additional connector orders are welcomed
We welcome additional connector orders if using multiple SLRs.
---
Can be used with external batteries
MVC-10W can be used with commercial external batteries including mobile batteries, which are suitable for outdoor use.